Kirkby soldier Mark Burgan honoured at Liverpool game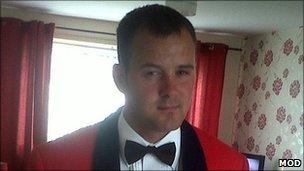 A Merseyside soldier who died in an explosion in Afghanistan last month will be honoured at Anfield later.
Irish Guard Lance Sergeant Mark Burgan, 28, of Kirkby, was killed by a roadside bomb, with Maj Matthew Collins, 38, of North Somerset, on 23 March.
Liverpool will make an announcement at half-time, during their game against Manchester City.
The Liverpool fan was also remembered at Everton's game with Aston Villa on 2 April.
Hundreds of people also gathered in Wignall Park in Kirkby, on 30 March, to release 2,000 Chinese lanterns in his memory.
Mr Burgan's uncle Ray Collins said on Liverpool FC's website: "I think Mark would have been overwhelmed with the people of Liverpool and especially the two clubs.
"It didn't bother Everton that he wasn't a Blue. It's not about football - it's about Mark being a soldier from Merseyside.
"We used to say: 'Wouldn't it be nice if Liverpool and Everton fans sat side by side again like they used to?' - so Mark would have loved this."
Related Internet Links
The BBC is not responsible for the content of external sites.