Wirral magistrate wins Cheshire Woman of the Year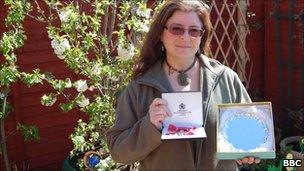 A magistrate from the Wirral is celebrating being awarded the title of Cheshire Woman of the Year.
Jo Wood was appointed MBE last year for her work as service co-ordinator with the Merseyside Rape and Sexual Abuse Centre (RASA).
Mrs Wood, from Moreton, began working for the voluntary organisation, which helps women and girls who have been victims of sexual violence, in 2004.
The Cheshire Woman of the Year award has been running since 1985.
Sylvia Cheater, chair of the awarding committee said: "She is someone who cares about others and who tries very hard in practical ways to improve their opportunities and lives.
"We thought that she showed courage and fortitude, and has an unfailing sense of humour.
"She shows just how much an 'ordinary woman' can do within her community."
Mrs Wood said the centre allowed women to talk about their experiences.
"About half of the people that contact us are adults who have been abused as children or are currently in a crisis situation or have just come out of one.
"The very first step is acknowledging that something has happened.
"Almost without exception the victims of sexual violence blame themselves.
"The worst thing you can do is tell no-one. The very first person you tell about an attack may change your life. "
In 1995 Mrs Wood founded a home for orphans in Warri, a small town in south-west Nigeria.
"It was some something to do, I don't like not working so I found a need and I fulfilled that need.
"I've always wanted to do a job that meant something. If it's not a job you enjoy I don't think I could do it.
"I just like helping people. What drives me is a sense of justice."
Related Internet Links
The BBC is not responsible for the content of external sites.