Eight plays to be premiered at Write Now Drama Festival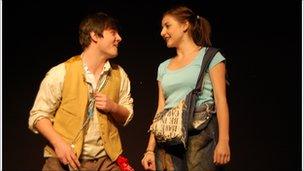 Liverpool's Write Now One Act Play Festival is back for its second year at the Actors Studio on Seel Street.
Eight new pieces of writing will premiere giving local writers, directors and actors the chance to showcase their work.
"Liverpool deserved a platform like this. We offer a very strong platform for new writers," said Festival director Ian Moore.
The plays will be performed from 15 to 23 April.
'Something for everybody'
The festival does not receive funding and relies on ticket sales to survive.
"You can expect comedy, tragedy, history. Everything from pirates on a Mersey ferry to two people getting stuck in John Lennon Airport," added Mr Moore.
"It's about supporting the arts through this difficult time and even more so supporting new writing."
"There's something for everybody, right across the board."
One of the eight pieces in this year's festival is children's play Striker by Liverpool-born playwright Neil Walden.
Matthew Bowden, who is directing the performance, said: "You can see the fun that we are having reflected on stage.
"There's lots of over the top characters, it's very fun and very quick witted. It's fun for young people and for adults."
Related Internet Links
The BBC is not responsible for the content of external sites.