Walton's County Road shop owners 'struggle to survive'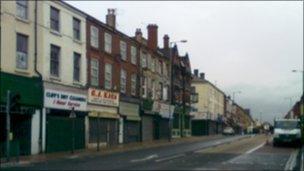 Shop owners on Liverpool's County Road claim high business rates and falling passing trade are forcing many businesses to close.
There are 26 empty shops on the main shopping street in Walton.
"Shop after shop is closing down, footfall isn't there anymore," said Mike Marvis, owner of cafe Mike's Kitchen.
The Valuation Office Agency, which sets business rates, said the amount paid can be reviewed.
County Road was once a thriving shopping area for north Liverpool but as stores have closed the area has slowly declined as a retail destination.
Mr Marvis said: "In the last five years I'd say three quarters of the people who used to walk up and down County Road have disappeared.
"There just isn't the business anymore to cover the rent and rates that are being charged.
"Where they've gone to I don't know, other shopping areas perhaps, but there are no shops down here to attract people anymore more.
"All we've got here are takeaways, eating places, pawnbrokers and newsagents, you can get that anywhere.
"We're all fighting for the same customer."
Rates are set by the Valuation Office Agency, based on the rental value of a property. The rates are reviewed every five years, current rates for County Road are based on a review in 2008.
David Subbachi, operations director at the agency, said businesses can appeal or ask for the rates to be looked at again.
"We'd encourage them to contact the valuation office in Liverpool first of all and to tell us why they feel that their rateable value is incorrect or too high," he said.
"Perhaps they've got some information they think we might not have taken in to account.
"We'd be quite happy to consider that information to discuss matters with them without the need for a formal appeal."
Brian McCann from the Liverpool Chamber of Commerce said businesses in the city were faced with a number of problems.
"Business rates are just one of many cost increases that our local businesses are fighting with at the moment," he said.
"It would too simplistic to say that they are too high in the current local economy, it's particularly tough in the retail environment at the moment."
Related Internet Links
The BBC is not responsible for the content of external sites.