Afghanistan battles 'not like Call of Duty', says soldier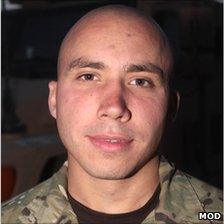 A video game enthusiast who enlisted in the British Army has described his first tour of Afghanistan as "a lot more realistic" than Call of Duty.
Pte Danny Morrison, from Halewood in Liverpool, admitted he did not know what to expect from battle and used the popular game series as his template.
But the 21-year-old, of Delta Company, 5 Scots, said he was now used to the reality of being a Taliban target.
"If you get shot at you get shot at. If you don't it's a bonus," he said.
"I didn't know what to expect," he added.
"You play Call Of Duty and think it's going to be like that. But it's a lot more realistic than a computer game.
"I remember my first contact as clear as day.
"It's not until afterwards and you are safe that you think: 'That was a bit close'. At the time you just get on with your job."
Pte Morrison, who has been stationed at Patrol Base Attal to the north-east of Lashkar Gah, is a prime target for the Taliban because he carries a general purpose machine gun (GPMG) out on patrol.
"I'm just doing a job... At the end of the day we're here to provide security," he explained.
He is one of several soldiers who have been training and mentoring the Afghan National Police (ANP) ahead of Afghan security forces taking control of the country by 2015.
Pte Morrison added: "We've had some crazy stuff. The ANP are brilliant but they've got a tendency to rip IEDs (improvised explosive devices) out of the ground right in front of you. That's a bit scary.
"They will go forward and have a little dig and pull them out. I suppose it saves you a lot of time."
Despite their lack of safety concerns Pte Morrison said the men had bonded with the local police and paid tribute to their bravery.
He said: "They're not bothered even if they're getting rounds coming in.
"We try to make them wear the body armour but they seem to think if they get shot they get shot and if they don't they don't.
"They're off their heads but they've helped us out on a lot of operations."
Pte Morrison will soon return from Afghanistan and said he was looking forward to a drink with his father Dave, who works at a car factory in Liverpool.
He added: "It's been a good experience. I can definitely see myself being here again. I always wanted to be in the Army. It's the best thing I've ever done."
Related Internet Links
The BBC is not responsible for the content of external sites.