Fire at disused St Helens gas tower put out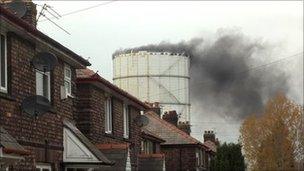 Fire crews worked through the night to put out a blaze at a disused gas tower in St Helens.
Merseyside Fire and Rescue Service said about 140 people called them to report seeing smoke billowing from the 90m (295ft) tower on Jackson Street.
Eight fire engines were called to the fire at about 1530 BST on Wednesday, which was eventually put out overnight.
The fire involved hydraulic oil which was used to pump up the roof of the tower when it housed gas.
Jackson Street was closed in both directions between Sorogold Street and West Side.
Station manager John McNeill said: "Crews have worked tirelessly through the night and managed to contain any further outbreaks of fire.
"Fire crews are still in attendance and are monitoring internal conditions with thermal imagery cameras as a precautionary measure to ensure re-ignition does not occur.
"It is expected that fire crews will remain in attendance throughout the day."
Related Internet Links
The BBC is not responsible for the content of external sites.