Replica tower for raised U-boat at Birkenhead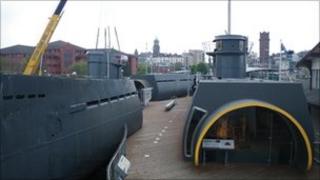 A new conning tower - a type of raised platform - has been erected at a World War II U-boat attraction in Wirral.
The replica has been added to the raised German submarine at Woodside Ferry Terminal's U-Boat Story.
The U-534 was sunk near the end of the war in 1945 and lay on the seabed for over 40 years before being discovered and salvaged in 1986.
The tower features a periscope which allows visitors to look out across the River Mersey towards Liverpool.
Chris Ince, curator of U-534 said: "People have always wanted to climb about the original conning tower but, due to the age and historic value of the vessel, we haven't been able to let them, so we have created this scale replica of the original.
"It is a very exciting time for us and for the public; now it's here it looks great."
The submarine was sunk when it was attacked by an RAF Liberator aircraft on the way to Norway.
The vessel took heavy damage and began to sink by the stern. Forty-nine of the 52 crew members survived, including five who escaped through a torpedo hatch as the submarine lay on the seabed.
It was brought to the Warship Preservation Trust collection in Birkenhead in 1996 and moved to the Woodside display site in 2009.