World acts to perform at Liverpool Shanty Festival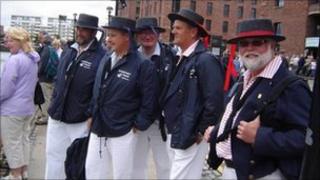 Traditional songs of the sea are returning to Liverpool as part of the city's Shanty Festival.
Performers from around the world, including the Staten Island Ferrymen, The Liverpool Shanty Kings and The Boat Band, are due to take part.
Acts will perform on a floating stage in Salthouse Dock.
Shanties are traditional songs that sailors sang on ships in order to keep up their spirits and enable them to work in time with each other.
There will be informal singing each evening in the Baltic Fleet pub opposite Wapping Dock.
Musical heritage
Bernie Davis, artistic director of the Liverpool Shanty Festival, said the event had a special resonance in Liverpool.
He said: "Just about everyone in Liverpool has a family connection to the sea, it doesn't matter where you come from, everyone has someone who has been to sea or worked at sea.
"Acts will be travelling from across Europe and America to play in Liverpool, the spiritual home of the sea shanty. Quite a few songs mention Liverpool, anyone connected with the sea will know about Liverpool.
"When sailors came here it was like a paradise, there were bars, music halls, thousands of sailors would have been staying in boarding houses across the city."
Two different types of shanty will be performed at the festival - "work songs" and "off duty songs".
"Typically a work song would have been performed while doing tasks on the ship such as pulling ropes and they kept everyone in time," said Mr Davis.
"Off duty songs were more casual and helped keep the sailors spirits up when spending so long at sea."
The Liverpool Shanty Festival will take place over two weekends - 29 April to 2 May and 7 May to 8 May with singing each day from 1100 BST to 1800 BST.