Liverpool Chandlers Wharf crane collapse prosecutions brought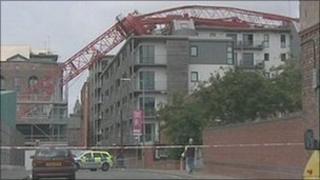 Two companies are to be prosecuted by the Health and Safety Executive (HSE) after a crane collapsed on to a block of flats in Liverpool.
Driver Ian Gillham, from Whiston, was paralysed from the waist down in the incident in July 2009.
His tower crane was being used to help build a new hotel and apartment blocks at Kings Dock Mill, on Tabley Street.
Bowmer and Kirkland Ltd and Bingham Davis Ltd face charges at Liverpool Magistrates' Court on 19 May.
Derbyshire-based Bowmer and Kirkland has been charged with breaching Sections 2(1) and 3(1) of the Health and Safety at Work Act 1974.
The other firm, based on Deansgate, Manchester, has been charged with breaching Section 3(1) of the Act.
The crane fell on to a partially constructed apartment block, across a road and came to rest on the Chandlers Wharf apartments on 6 July.
More than 100 people had to be moved from their homes and Mr Gillham was rescued from the roof.