New hope on Wirral Burton's biscuit factory jobs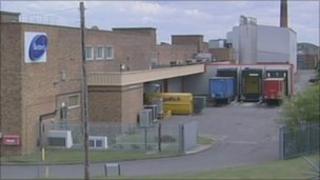 Workers campaigning to save a biscuit factory in Wirral have been given hope that some jobs could be saved.
Burton's Foods, which makes products for companies including Cadbury's, is to cease biscuit production at its factory in Moreton in October.
But the company said it would consider Unite union proposals to maintain other aspects of its operation at the site.
Unite said it would not rest until members had secured "maximum employment" at the site.
The consultation on proposals to completely close the factory has now been extended until 16 May following a meeting between Unite and company management.
Unite's proposal is to retain the chocolate refinery and seasonal assortment packing operations of the site, which could sustain some of the factory's 342 jobs.
'Viable option'
Regional officer Ritchie James said: "The loss of any job at the plant is difficult to accept because these are our friends and neighbours.
"But the lack of investment over the years and the loss of volume has made any counter proposal to maintain all the jobs on the Moreton site impossible.
"However, Unite's counter proposal could provide a viable option and still sustain jobs for local people."
In a statement, the company said managers wanted time to consider some of the "innovative thinking" proposed by the union.
A spokesman said: "The union proposal accepts the company proposal to cease biscuit manufacture and transfer production to Edinburgh and Llantarnam - resulting in 109 job losses, which are proposed to occur from October 2011 onwards.
"Consultation in relation to that aspect of the company's proposal is therefore at an end, although consultation will continue regarding the consequent redundancies, including ways of minimising them and mitigating their consequences."