Wirral Mother's Milk Bank celebrates 500th donor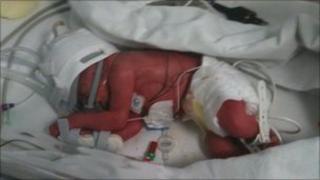 A Merseyside breast milk bank which has helped feed hundreds of premature babies has celebrated recruiting its 500th donor.
Wirral Mother's Milk Bank, set up in 2004, has received more than 3,000 litres of breast milk, which have been distributed to neonatal intensive care units across the North West.
Donors express the milk in their homes and freeze it ready for collection by a team of volunteer drivers once a fortnight.
Paediatricians' research has found that babies fed on breast milk are more resistant to disease and infection than those fed solely on formula milk.
'Affect supply'
The milk bank, which is based at Arrowe Park and Clatterbridge Hospitals, distributes regular supplies to the Liverpool Women's Hospital where the region's smallest and sickest babies are treated.
Wirral Mother's Milk Bank manager Annie Atkinson said that mothers who wanted to breast-feed can face difficulties if their babies are born early.
"This can be a highly stressful and anxious time for some mothers which can adversely affect their milk supply and pasteurised milk from the milk bank ensures the baby receives human milk only.
"Natural breast milk is the perfect solution and mothers can feel reassured that their babies are still receiving the best start in life.
"Breast milk is more like a treatment than just food for premature babies," she added.
'Give back'
Wirral mother Jennifer Ashworth became a donor when her son Isaac was born three months prematurely.
She learnt about the service when she thought she may need to borrow breast milk, but in the event she produced her own and had enough left over to become a donor herself.
She said she had not heard of the milk bank "until I was literally in that situation when the forms were put in front of me saying 'we have donor milk, do you want the option of donor milk if you need it?'
"I was made up that the service was there, because I thought well at least he can have breast milk instead of formula.
"Because he was only tiny he could only drink one millilitre of milk every hour so a lot was going to waste."
"I had had the option of donated milk and wanted to give back to the service which I almost needed."
Isaac was treated in Liverpool Women's Hospital's neonatal clinic for three months before he was well enough to go home.