Puppies in training with Merseyside Police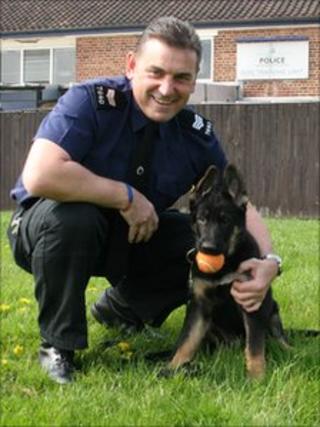 Seven German shepherd puppies have begun training with Merseyside Police.
The puppies will receive initial training at the Merseyside Police's base at Mather Avenue in Allerton, Liverpool, before going on patrol.
They are bred specifically to be police dogs through the force's breeding programme.
The dogs initially live with volunteer puppy walkers who care for them while they undergo their basic training.
There are currently more than 70 dogs in the force including German shepherds, labradors and springer spaniels.
Sgt Mark Hilton is looking after Tango, a 12-week-old German shepherd puppy.
"Training starts the minute you bring him home with short commands like 'Tango come'," he said.
"We have been getting him used to the police vehicles, blue lights, control rooms and even to the other puppies.
"It's very reward-based at this stage. He also likes hot dogs and cheese as occasional treats."
At eight or nine months old, the puppies are then assigned to a dog handler before they start their formal training at 14 months old.
Dogs live at home with their handlers as well as work alongside them.
Inspector Matt Boyle said: "We look for dogs that are confident, bold, big, strong and loyal to their handler.
"They are big strong dogs and they are good for apprehending criminals. We have a technique were the dogs are trained to circle an offender and bark, this forces them to stop.
"The dogs are also trained in agility and will be trained to jump garden fences.
"Eventually they will join the firearms team and will alert police by barking if there is a firearm in a property."