Lottery cash for St Helens brass band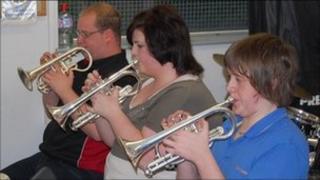 A brass band from St Helens has been awarded £22,000 by the National Lottery to celebrate its 75th anniversary.
The Parr (St Helens) Brass Band, which formed in 1936, will be creating a commemorative booklet and DVD charting the history of the group.
The band, which has 35 members, are currently the North West Counties Amateur Brass Band champions.
They perform at St Helens Live 2011 performance festival this summer and release their memorabilia in September.
'Popular genre'
Musical director John Ludden said: "This passing down of memories and the oral and musical history is completely new for bands.
"We're not a dying form, we play modern tracks like Adele as well as the classics.
"You can tell by the number of young people in the band how popular the genre still is.
"Our youngest member is nine and our oldest is 82."
The band was formed in 1930 when they were asked to take part in a Patronal Walk by the vicar of Parr St Peter's church.
They meet weekly at a rehearsal room in the Viridor Glass Recycling site in Sutton and run a training school each Saturday morning for new musicians.