Liverpool council boss Ged Fitzgerald on 'severe' budget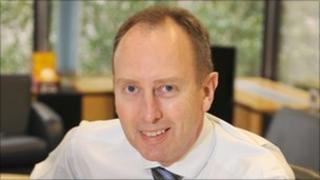 The chief executive of Liverpool City Council said he faced a "whirlwind" when he took office as the city faced £91m of cuts.
Liverpool born Ged Fitzgerald joined the authority in early February this year as the budget for 2011/12 was being worked on.
Liverpool has to reduce almost a quarter of its spending.
"I don't think anybody really knew the size and severity of the challenge that we had around the budget," he said.
"I literally, along with the members and the director of resources, sat in my office for the best part of a month with a calculator where only the minus button was working. It was very very challenging.
"I have every sympathy for all the members of staff. The one thing that everybody wanted of course was the one thing we couldn't give guarantees on, which was security of employment and certainty as to the future."
Liverpool's ruling Labour group were joined by the rival Liberal Democrats group and other parties to work together on the new budget.
The council predicts job losses of between 1,000 to 1,100 from the cuts. Half of senior management posts will go and budgets for children's services and adult care are being reduced.
"It took us a lot of working through to balance the budget, and £91m out of a useable amount of about £400m was a really big daunting challenge," Mr Fitzgerald said.
"We've achieved it in terms of balancing the budget. We've got to go and deliver and implement it all now as we've entered that new financial year."
As the council now works on delivering the spending cuts agreed, Mr Fitzgerald warned the next budget for 2012/13 will bring the same tough decisions.
"The figures vary from a minimum of £40m to a maximum of £60m [cut] for the forthcoming budget round. Which will be even more challenging I have to say than the last one has proven to be."
Mr Fitzgerald started his local government career at Sefton Council, before he moved to a European post with Knowsley Council.
He was deputy chief executive of Calderdale Council from 1998 to 2001, followed by a spell as chief executive at Rotherham Council.
In 2004, he became chief officer at Sunderland Council before moving to head up Lancashire County Council.
He said the attraction of the Liverpool role was both sentimental and the challenge of the job.
"There was a bit of the coming home attraction about it. I did think very long and very hard about it, I was settled in Lancashire," he said.
"People said Liverpool was difficult when the job came up. It had had a difficult recent chequered history as it were, within the council obviously, not allowing for Capital of Culture which was a major success, Liverpool One and so on.
"I'm always excited by the size of the challenge, because Liverpool is that kind of place isn't it? There's a lot to be done. There's a lot of opportunities.
"I will continue to do my very best to make sure that we maximise the opportunities where we can."