Coastal warning from Wirral lifeguards in warm weather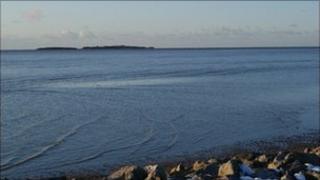 Lifeguards in Wirral are urging people to take care on the peninsula's beaches in the warm weather over the Easter weekend.
Despite the warm air temperatures, the water is still below 10C which can have "serious implications" for swimmers if in the water for 10 minutes, they said.
The borough's chief lifeguard, Tony Jones, said the incoming tide can also easily catch people out.
He also urged anyone walking to Hilbre Island, at low tide, to take care.
Swimmers are also warned of the dangers of using inflatables not designed for tidal waters, due to strong offshore winds.
Mr Jones also urged anyone on boats or jet skis to take appropriate safety equipment, otherwise they would be "playing Russian roulette with their lives".
He added: "Wirral lifeguards have extensive local knowledge and I'd urge people to take advantage of it by asking for advice on tide times and weather forecasts.
"Rather than spoiling people's fun, we want to enhance it by making sure that they can enjoy our beaches safely."