RSPB call for Southport Marshside reserve volunteers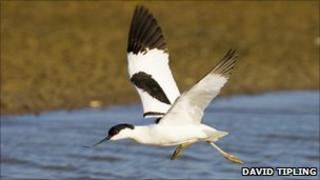 A Merseyside nature reserve has appealed for volunteers to help it cope with the number of visitors attracted by nesting avocets.
The distinctive black and white sea birds attract bird lovers as they rear their young during the spring.
RSPB Marshside nature reserve in Southport wants volunteers to help staff run the centre.
Tasks will include leading guided walks, surveying birds and countryside management.
'Great fun'
Alex Pigott, reserve warden said: "At this time of year it's definitely our avocets nesting and rearing their young that are in the limelight.
"These iconic black and white coastal birds with their distinctly upturned bills may look elegant and timid, but they can put on quite a show as they fiercely defend their offspring from any possible danger."
"It's an amazing sight, which we love to share with our visitors. We're inviting everyone to come on down to see them.
"Volunteering is great fun as you meet new people and learn new skills and you definitely don't have to be a bird expert to help out," he added.