Liverpool Lib Dem defects to Labour ahead of election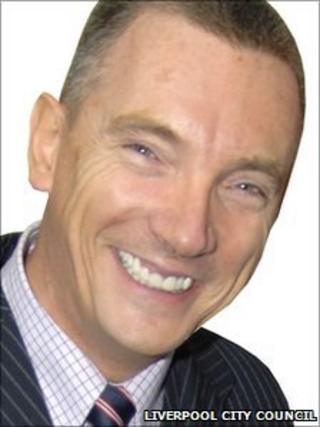 A senior Liberal Democrat councillor in Liverpool has defected to Labour ahead of the local elections on 5 May.
Gary Millar blamed broken pledges by Lib Dems in the coalition government for his decision, which he said he began considering 12 months ago.
He said the "first nail in the coffin" was the Parliamentary party's support for the rise in student tuition fees.
Flo Clucas, Liverpool's acting Lib Dem leader, said fees had been introduced by the party he was now joining.
Mr Millar, who was elected in 2008, is the city's second Lib Dem to switch parties in the last nine months.
Until his resignation, the councillor was opposition spokesman for employment and skills. He represents the Old Swan ward and is due to stand for re-election in 2012.
Manifesto pledges
As well as the party's abandonment of their tuition fees pledge, Mr Millar cited the government cuts to police budgets as another factor in his decision.
"We had a manifesto which included putting more police on the streets and yet Liverpool and the region faces 880 less, not more. That worries me hugely.
"I had to make this decision because it's about integrity, it's about trust.
"I've got to stand up and be counted and if I believe that somebody is doing something wrong, or a party is doing something wrong that I don't agree with then I shouldn't stay with that party.
"I'm not the first, and I may not be the last."
Mr Millar's resignation comes just over a week after the resignation - and subsequent suspension - of Warren Bradley.
Mr Bradley stepped down as leader of the party on the city council over allegations of electoral fraud, which he denies.
His replacement Flo Clucas told the BBC Mr Millar had taken a decision which was "right for himself".
"In the Liberal Democrat group in the council we'll be taking decisions which are right for the people of this city and the future of the city," she said.
Asked how his departure would hit the party's election campaign, Ms Clucas replied: "We know that it's going to be tough during the course of this election.
"Somebody said to me: 'Well haven't you got a mountain to climb? And I said, 'Yes we do have a mountain to climb, but actually mountains are there to be climbed'.
"With team work, good strategy, a good outlook and with a willingness to take the hard knocks as well as the soft pathways, then we'll get there in the end."
Councillor Joe Anderson, leader of the Labour group, welcomed the new addition to the party and urged other Lib Dems to follow his lead.
"It is a real coup to have Gary join Labour. He will be a real asset to the party," said the councillor.
"The Lib Dems are facing a wipe-out in the local elections next week.
"There will be many of their members equally dissatisfied about the unfair cuts, broken promises and propping up a Tory government. They should join Gary and join Labour as the only party standing up for Liverpool. We never close our doors to anyone."
The Lib Dems now have 33 out of 90 councillors on the Labour-run authority.