Warren Bradley: Police probe election fraud allegations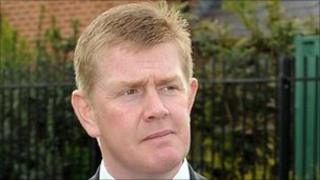 The former leader of Liverpool City Council faces a police investigation over electoral fraud allegations.
Warren Bradley stepped down as the council's Liberal Democrat leader last week after the fraud claims.
He denies allegations he put his teenage son forward for nomination as a council election candidate without his knowledge.
Mr Bradley is already the subject of an internal investigation by the Lib Dems who have suspended his membership.
Merseyside Police confirmed it had received an official complaint relating to an electoral fraud allegation.
Mr Bradley's resignation came amid controversy over whether his 18-year-old son Daniel was properly nominated to stand as a candidate in Liverpool's Central Ward.
The allegation is that Warren Bradley falsely witnessed the nomination papers which were not, in fact, signed by his son.
Mr Bradley has denied the allegation and is seeking legal advice.
The Lib Dems lost control of Liverpool City Council to Labour last year.