Local musician set for Hollywood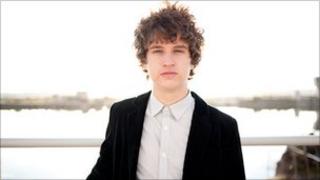 A Liverpool musician has been added to the Radio 1 playlist and asked to perform in Hollywood, six months after uploading his music to BBC Introducing.
Fenlon's song 'Summer' has been played by BBC presenters including Fearne Cotton and Zane Lowe.
The 19 year old from Halewood has also been chosen to play at a festival in Hollywood, USA.
He is one of four UK artists chosen to represent Britain's new music talent at the MUSEXPO festival in May.
His latest single 'Summer' has was played on Radio One during April 2011 but he is already looking towards future releases.
Los Angeles trip
"It's unbelievable", he said. "I'm glad that songs like 'Summer', 'That Girl' and 'Hey You' can be heard now and liked for what they are.
"I wrote those when I was quite young and I think that the songs I'm writing now are much better".
Luke started his musical career at the age of fourteen when he bought his first guitar.
"I remember listening to 'Is This It?' by The Strokes and I decided then that it was what I wanted to do," he said.
"While I was saving for a guitar, I wrote lyrics and I wrote everything down, and then when I learnt three chords I wrote my first song."
Fenlon heads to Los Angeles with BBC Introducing to showcase new British talent and says he was delighted when he heard the news.
"I'm the luckiest person in the world. I don't think I'll be able to sleep the night before we fly over", he said.
"If the panellists hear my music and like it, it would be good if they could invest some information and knowledge to me."
Luke Fenlon plays at Liverpool Sound City on 19 May, 2011 and plans to release a debut album later in the year.