Runcorn dig uncovers medieval lion head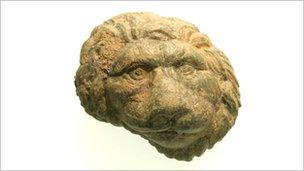 A bronze lion head dating from the 15th century has been found in Cheshire.
The artefact, believed to have been a hat badge, is among 80 items discovered by archaeologists at a building site near Runcorn.
Pottery dating back to the 13th century and footings of timber-framed houses have also been discovered at a site near Lodge Farm.
Archaeologists believe the items would have been owned by people living in the medieval village of Norton.
Jamie Quartermaine, from Oxford Archaeology North, who is leading the project, said: "This is almost the last surviving remains of the old medieval village of Norton on land that is beside the main thoroughfare of the village.
"We have found evidence of buildings in the form of post holes, where vertical timbers were set into the ground, and also shreds of medieval pottery."
Archaeologists have been excavating the site near Lodge Farm, Highgate Close, since April 2011 ahead of planned building work.
Houses are due to be built on the land, which is adjacent to a site where prehistoric pottery was found in the 1970s.
Adam Scott, associate director of Croft Goode Architects, said: "The lion head is a fascinating find and along with the other items discovered, shows just how much history there is here.
"This excavation provides an interesting glimpse into a time long gone as the site enters a new chapter."
The items recovered from the site are being analysed at the Oxford Archaeology North Laboratory in Lancaster to help build a better picture of how the settlement has developed and will be donated to Norton Priory Museum in Runcorn.
Related Internet Links
The BBC is not responsible for the content of external sites.