Liverpool Women's concedes incontinence negligence cases
By Lucy Ewing
BBC News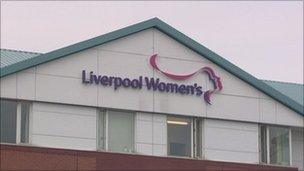 A hospital being sued by hundreds of women, who claim their incontinence was made worse by a surgeon, has admitted liability or agreed to pay compensation in 50% of claims processed so far.
George Rowland, a former consultant urogynaecologist at Liverpool Women's NHS Trust, is accused of performing inappropriate operations on the women.
About 400 are suing the trust. More than 70 cases have been processed.
It is one of the largest group actions ever taken against an NHS trust.
A spokeswoman for Liverpool Women's NHS Trust confirmed that Mr Rowland no longer worked at the hospital and said the National Health Service Litigation Authority (NHSLA) was progressing the claims.
The General Medical Council (GMC) has imposed conditions on Mr Rowland's licence to practise. They are in place until May 2012. It is not clear whether he is working elsewhere.
The women, who had all seen Mr Rowland at Liverpool Women's annexe at Aintree for treatment for incontinence problems, claim he had made their conditions worse, solicitor Ian Cohen said.
Some operations were unnecessary and others were poorly performed, he said.
Mr Cohen, a medical negligence specialist at Goodman's solicitors in Liverpool, is representing 390 women.
He was also the lead solicitor for the retention of organs case at Alder Hey Hospital.
Mr Cohen said the outcomes of procedures undertaken by Mr Rowland had been "life changing" for some of the women.
"For a woman to admit to herself she has incontinence problems, to drum up the courage to go to her GP, to hospital, and then undergo surgery, and then be left in a worse condition is devastating," he said.
"A lot of these women simply put up and shut up because they don't want the worry of further surgery."
A spokesman for the NHSLA said each case was being handled individually, with admissions being made in some cases and others being looked into.
"We are trying to resolve the cases as quickly as possible," he added.
The trust admitted unnecessary surgery was carried out on Eileen McNaughton, of Wigan.
The mother-of-two had suffered difficulties passing urine for about 10 years, having to go to the toilet as soon as she realised she needed to.
She was referred to Mr Rowland at Aintree. He examined her and told her she had stress incontinence and a rectocele. She actually had an overactive bladder.
The 55-year-old underwent surgery in October 2006 and said she had suffered both physically and mentally as a result.
Several weeks after the operation she started to suffer hallucinations, which became progressively worse to the point she thought she was dying, she said.
She was eventually admitted to a mental health unit.
"I don't remember anything of it, just little flashbacks which I can control and handle now," she said.
After several days, she said she persuaded one of the nurses there was something wrong with her wound. When they inspected it, she was rushed to the Royal Albert Infirmary in Wigan where she was told she had psychosis due to a serious infection.
She said Mr Rowland later apologised to her, saying he must have left a gap in her stitches.
This was later disputed by the hospital, she said.
She now has to use a catheter and has episodes of faecal incontinence, and has had to undergo several operations to try to rectify the original problem.
"I believe it is a consequence of the operation," she said.
"The only thing I had was 'Oh no, I have got to get to the loo'."
The trust and the NHSLA declined to comment on Mrs McNaughton's case, saying it would be inappropriate to comment on individual cases.
Mrs McNaughton said her subsequent physical and psychological difficulties led to her having to leave two jobs as a senior secretary.
She said she used to be an "emotional wreck" but has had counselling which has helped her come to terms with what has happened.
The legal action is not expected to be resolved in full until next year.
"I just want closure," said Mrs McNaughton, who still has to undergo further tests before her case will be resolved.
"I want it all to come to an end. I want to enjoy my grandchildren."
Related Internet Links
The BBC is not responsible for the content of external sites.