Beatle Ringo Starr apologises for Liverpool comments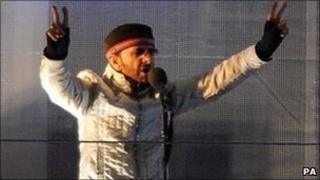 Ringo Starr has apologised for saying he missed nothing about his home city Liverpool.
The ex-Beatle, who is starting a UK tour including a Liverpool Empire gig, said he did not think he had offended Scousers with his 2008 remarks.
"I apologise to those people (who were offended), as long as they live in Liverpool, not outside," Starr told a BBC interview.
"No real Scouser took offence, only I believe people from the outside."
Starr, 70, who has homes in Los Angeles, England and Monaco, made the comments on BBC One show Friday Night with Jonathan Ross in January 2008.
Sculpture beheaded
It followed his performance of Liverpool 8 at the opening of Liverpool's European Capital of Culture year, which has the words "Liverpool I left you but I never let you down".
Asked by the presenter what he missed most about the city, Starr laughed. Ross asked him if there was anything he missed, to which the drummer replied "er, no...", though he went on to say he loved the city as it was where he grew up and where his family were.
His comments were greeted with anger from some people in Merseyside and a foliage sculpture of the drummer at Liverpool South Parkway station was beheaded by vandals three months later, with the sculptures of the three other Beatles left untouched.
Asked about the offence caused by the remarks three years ago, Starr told the BBC that Liverpool was still very important to him.
He said: "I was brought up there, I went to school there, all my childhood, my youth was there.
"It's silly that whoever took offence took offence."
Starr's former home in Madryn Street, Toxteth, is currently under threat of demolition as part of regeneration plans, though there is a campaign to save it.
"Deep down I think it should stay," he said.
"You know, because of the impact the Beatles had on Liverpool, that people come to see - and they should see - where we came from.
"The only thing I want, if they save my house 9 Madryn Street, is that it stays where it is because there was a rumour that they were going to knock it down and put it up somewhere else, which I thought doesn't really mean anything."