Behind the scenes at the undertakers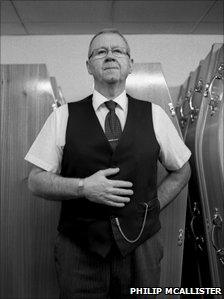 A Merseyside embalmer is exhibiting his photographs taken of people working in the funeral industry over the last five years.
Philip McAllister's exhibition Behind Closed Doors shows the normally private world of the funeral parlour.
The images will be on display at St Luke's Church in Liverpool during June.
"Death itself is a subject that we don't often discuss in this country," Mr McAllister said.
"I'm trying to demystify the whole process."
Mr McAllister, 49, who lives in Ormskirk with his wife and two teenage children, has worked as an embalmer for 16 years.
He hopes the exhibition will humanise the industry.
"I'm obviously not revealing anything, there are no bodies and nothing gruesome, I'm simply showing that people who work within that industry are just regular people like us. They enjoy a laugh and a drink and go out," he said.
He says that despite dealing with death and tragedy on a daily basis, people who work in the funeral industry conduct themselves with great dignity.
"Some of the pictures here show people smiling and even laughing, this is normal, we are human after all.
"There is a time for laughter and there is a time for silent respect," he added.
Mr McAllister worked as a postman for 12 years before deciding to change career. He was introduced to the idea of embalming after a friend explained how she had been comforted by seeing her father embalmed.
"She told me how she went to see him and pay her respects when he was in the coffin," he explained.
"She said he actually looked better in death than he did in the last 12 months of his life and then discovered that he had been embalmed.
"As she relayed this to me and I thought that it might be something I could do because I'd always been interested in biology and art."
After three years at night school Mr McAllister qualified with the British Institute of Embalmers and began work as a freelance trade embalmer.
"I tell people I'm very similar to a mobile hairdresser. I have a van with all my equipment in and I travel to a regular clientele of funeral directors," he said.
"Embalming is temporary preservation, so it's nothing at all like the ancient Egyptians did, it's like a blood transfusion in reverse.
"I remove the blood and it is replaced with preservative, disinfectant solution that temporarily preserves the deceased and also reinstalls a nice pink life like pallor to the skin."
He says he hopes the exhibition will encourage people to discuss death and consider what will happen to them when they die.
"It's one small step and I hope people will go away from it and start to think a little bit more about death," he said.
"The sooner you consider your own death and how things are going to end, the sooner you can get to live. Its an inevitable part of life."
The exhibition is at St Luke's Church, Leece Street, Liverpool, as part of the Look 11 International Photography exhibition and runs from 2 - 26 June, 2011.
Related Internet Links
The BBC is not responsible for the content of external sites.