Kirkby revamp plan backed by minister Eric Pickles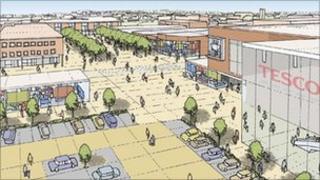 Plans to regenerate a Merseyside town that could attract £200m of investment have been approved by the government.
Local government secretary Eric Pickles has said the plans for Kirkby, passed by Knowsley Council in March, did not need to go to a public inquiry.
The council claims private investment will be made because the plans include new shops, such as a Tesco superstore.
However, some local businesses said building the store would be detrimental to trade in existing shops.
The scheme by Spenhill (Tesco's regeneration subsidiary), will complement other developments in the area according to the council.
'Challenging journey'
This includes the creation of a new hi-tech health facility, £1m worth of enhancements to Kirkby Market and improvements to other council buildings, including the Kirkby Suite.
Councillor Dave Lonergen, cabinet member for Regeneration, Economy and Skills, said the council was delighted with the decision.
"It has been a long and sometimes challenging journey to secure the right kind of regeneration for Kirkby but we are thrilled that our proposals will now be able to proceed," he said.
"In the current economic climate the benefits of this project cannot be underestimated."
The plans were submitted last August after previous plans, which included a new stadium for Everton Football Club, were rejected by the government in 2009.
The current plans could still be called in by the government with the potential for another public inquiry.