Teenage councillor Jake Morrison takes up office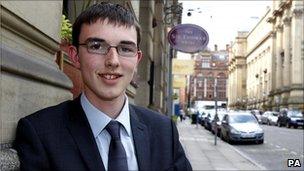 It was one of the biggest upsets of this year's local elections. Eighteen-year-old Jake Morrison took on political heavyweight Lord Mike Storey - and won.
The healthcare assistant from Walton, Liverpool, was not even old enough to vote when he was selected by Labour to stand in Wavertree, aged just 17.
And it was far from being the easiest challenge to take on at the start of your political career.
Defending the seat was Liverpool's longest-serving councillor.
When Liberal Democrat candidate Mike Storey first entered the council chamber back in 1973, he was only a few years older than Mr Morrison.
He went on to become council leader and then Lord Mayor.
But competing against someone with almost four decades of political experience did not trouble the teenager.
"I knew Mike Storey had been around a long time, and he is well respected by the people of Liverpool," he said.
"But I also knew Labour had more to offer the people of Wavertree this time."
In the end, Mr Morrison won the seat with a majority of almost 900.
But after claiming one of the most memorable results in Liverpool for years, there was no time for a honeymoon period.
Just hours after the teenager's victory, it was straight down to work.
"After about an hour's sleep, I had to go to the council office to sign in with the chief executive," he added.
"And the work hasn't stopped since."
While opponents had seized upon his age and lack of experience during the election campaign, Mr Morrison said the response he received from the people of Wavertree had been largely positive.
"After I'd won, some of the older residents especially, were giving me hugs and offering me cups of coffee," he said.
"And yes, I suppose they do try to mother me."
He also paid tribute to the "amazing support" he received from council colleagues.
Among them is mentor and deputy leader, Councillor Roz Gladden.
But he said his most surreal experience so far had been taking his seat at his first-ever council meeting.
"I've sat in the public gallery for the last two years, but it's weird to walk in and sit in my own seat," he said.
Councillor Morrison is now looking forward to the challenges ahead, including making his maiden speech.
And for anyone who may have any doubts about his age or lack of experience, he said he is determined to use the next four years to prove them wrong.
Related Internet Links
The BBC is not responsible for the content of external sites.