Liverpool FC's Daniel Agger to hold charity auction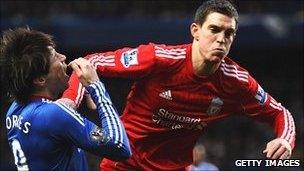 Liverpool FC defender Daniel Agger is staging a charity auction to help soldiers from his native Denmark who have been injured in Afghanistan.
Items include a Liverpool shirt signed by the squad, Steven Gerrard's boots and goalkeeper Pepe Reina's gloves.
All funds will go to Soldaterlegatet, a Danish charity formed to help soldiers wounded in conflict.
The Reds' star, who once wanted to be a soldier, said it would be the first of many fundraising events.
Other objects on offer include a Brazil shirt worn by Lucas Leiva, a replica 1986 FA Cup final jersey signed by manager Kenny Dalglish, women's world Tennis Number One Caroline Wozniacki's racket and the boots of Danish boxer Mikkel Kessler.
Mr Agger said: "There have been so many incidents in Denmark where politicians and the media have put all their attention towards the soldiers going away, but then you see some of them coming back having lost a limb or with mental health issues.
"I always wanted to be a soldier and go into the army, so I thought if I could do something to raise awareness and focus on the soldiers coming back it would be well worth it.
"I want to keep going and try to make life easier for the soldiers coming back."
Related Internet Links
The BBC is not responsible for the content of external sites.