Wirral trade centre plans to be submitted by Peel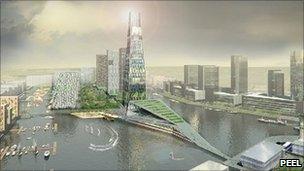 Plans for a trade centre that could create up to 3,000 jobs in Wirral are to be submitted.
Developers Peel want to site the International Trade Centre (ITC) at West Float, in Birkenhead, as part of its £4.5bn Wirral Waters development.
The company plans to transform the dock area with offices, leisure and homes, and will start building in 2012 if it gets the go-ahead.
It said the ITC would provide a direct link for trade between the UK and Asia.
The centre will be made up of four, multi-level buildings, totalling about 230,000sq m.
Under the proposed plan, buildings are likely to be phased over the next 10 years.
Peel said the centre will enable more than 1,000 companies from countries such as China, India, South Korea to exhibit, sell, assemble and distribute their goods into the UK, Irish and European markets.
Peel Director Lindsey Ashworth said: "This is a fantastic and exciting project where everybody wins.
"All local retailers will have access on their doorstep to high quality products manufactured overseas, and local people will have the opportunity to apply for new jobs that will be created.
"Peel will establish stronger business relationships with China and other emerging economies which we believe will be the start of additional overseas joint ventures that move other projects forward and kick-start much needed growth in the Northwest region".
Councillor Steve Foulkes, Leader of Wirral Council said: "This project has the potential to deliver much needed investment and jobs for local people and I am personally determined that this is just the beginning of a new dawn for Birkenhead and Wirral."
The Wirral Waters scheme was designated as one of 11 enterprise zones around the country in May.
The special status means tax breaks and planning rules will be cut back to attract new businesses and create jobs.
The plans are to be submitted on Thursday.
Related Internet Links
The BBC is not responsible for the content of external sites.