St Helens arrest over cat Spike shot with crossbow bolt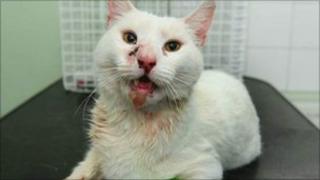 A man has been arrested after a cat was shot through the head with a crossbow bolt in Merseyside.
The 39-year-old from Sutton, St Helens, was held over the shooting of Spike, from Sutton, who had a four-hour operation to remove the bolt.
Police said they seized an air weapon with a crossbow bolt firing mechanism, which forensic officers are examining.
He was released on bail on Thursday afternoon, a Merseyside Police spokeswoman said.
A vet described Spike's escape from death on Tuesday as "miraculous" as the bolt pierced his cheek and neck.
The 12in (30cm) bolt which was removed was retained by police for forensic examination.