Africa Oye celebrates 20 years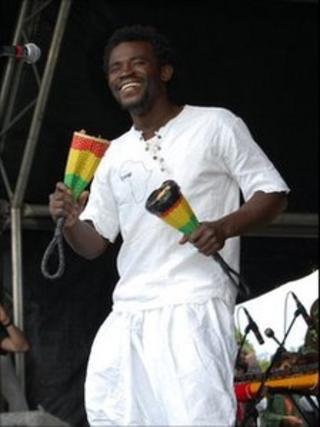 Liverpool's annual celebration of African music and culture is marking its 20th year.
The two-day Africa Oye festival, which takes place in Sefton Park on 18-19 June, celebrates the cultures, food, music and artists of Africa.
The event, the biggest of its type in the UK, attracted more than 50,000 people in 2010.
The 2011 event remains free despite being hit by finacial problems earlier this year.
"It is good to get to 20 festivals," said Project Manager Paul Duhaney
"I didn't think that would ever happen."
The festival started as a small indoor event in 1992 and has grown to a full-scale festival in Liverpool's largest park.
Its rise in popularity has also meant an increase in costs for organisers.
"Our visitor numbers unexpectedly doubled in 2010," Mr Duhaney explained.
"To go ahead in 2011 the event would need tickets, security and fencing."
'Charity buckets'
Festival-goers were told they would have to buy £5 tickets, a decision which was later withdrawn.
"We want to keep it free," Mr Duhaney continued.
"We've managed to increase our license and get some funding from the European Regional Development Fund festival enhancement programme and other sponsorship.
"But we're still not out of the woods, we still need to earn money this year hence we've got an Oye merchandise store, the Oye Inn and charity collection buckets.
"We won't to be able to keep it free unless people help us."
The festival will be selling merchandise and collecting with charity buckets throughout the weekend.
"Our mission is to bring the best live African, Caribbean and Latin American music to Liverpool.
"The nature of the audience is a real cross-section of everyone and anyone and I think that is the beauty of it," he added.
For the first time Liverpool youth drumming and percussion group Beat Life will perform on the festival main stage.
"Up to 80 children will be playing live," Mr Duhaney said.
"That's what make Oye unique. It definitely brings people together."
For more information on the event in Sefton Park visit the Africa Oye website.