Southport firm fined after man lost finger in saw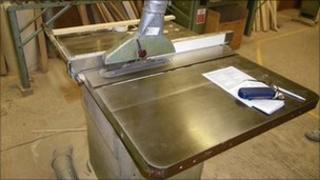 A shopfitting firm on Merseyside has been fined after one of its workers had his finger severed by a rotating saw.
The Health and Safety Executive (HSE) prosecuted Mentha and Halsall Shopfitters, in Southport, after the accident on 15 April 2010.
Darren Mawdsley, 37, from Southport, had to have his finger amputated the following day, the HSE said.
The firm, which admitted breaking work equipment regulations, was fined £3,000 by North Sefton Magistrates' Court.
It was also ordered to pay costs of nearly £3,500.
Mr Mawdsley was trimming oak planks when a piece of wood caught on the blade of the circular saw, pulling his index finger into the machine, the HSE said.
A guard for the saw was resting on a table at the side of the machine when the accident happened, the court was told.
'All too common'
The HSE said that the firm had carried out a risk assessment for the saw but it had not been passed onto workers.
Mr Mawdsley had not been given any training on using the saw, and there were no warning signs on the machine, it added.
The firm declined to comment.
Speaking after the hearing, HSE inspector Phil Redman said: "These kinds of incidents are all too common in the manufacturing industry and sadly result in workers suffering life-long injuries.
"Good health and safety isn't about filling in forms. It was pointless for the company to carry out a risk assessment if they weren't going to pass it on to their staff.
"No instructions or training were provided to Mr Mawdsley on how to use the saw safely, and supervision in the workshop appeared to be minimal.
"If the shopfitting company had done more to protect the safety of its employees then one of them wouldn't have lost a finger."