Doctors ballot Arrowe Park hospital staff on morale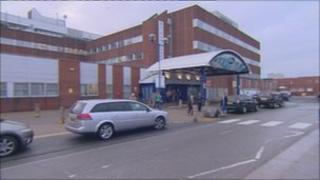 Doctors at a Merseyside Hospital are so concerned about the way it is being run they are balloting staff to gauge the depth of feeling, the BBC has learnt.
Concerns about Arrowe Park Hospital in Wirral include worries that services are being moved out of the hospital and that there is a "climate of fear".
Although there are often grumbles within the NHS, it is highly unusual for consultants to take such action.
The NHS trust said it was in "active discussions" with the medical board.
The ballot is going on now. Morale is said to be very low at the hospital.
Disciplinary fears
The BBC has learnt that among the concerns of senior medical staff are plans to move vascular surgery from Birkenhead to Chester, even though there is a very good vascular department at Arrowe Park.
There is also a feeling among senior doctors that they are fearful of voicing their concerns to management - a worry they could end up in front of a disciplinary panel if they complain too loudly.
In a statement, the hospital's trust said: "Wirral University Teaching Hospital NHS Foundation Trust can advise that there is no formal ballot taking place in respect of a vote of no confidence in its chief executive.
"The Chair of the Medical Board within the trust is in the process of seeking the views of the Medical Board on a number of issues.
"The Trust Board is in active dialogue with both the Medical Board and the local negotiating committee in this respect."
The BBC has information that a number of senior medical staff have left the trust because of disagreements with management.
We have also been told that GPs in Wirral are concerned that there are changes at the hospital which the senior medical staff are unhappy with.
Our information is that the consultants at Arrowe Park have organised their own ballot to test just how strongly they feel about how the hospital is being run.
The ballot paper had three questions, including one of which asked whether the doctors believed senior managers listened to them properly or not.
The ballot is continuing, though some doctors have voted already.
In a further statement, the trust said disagreement on crucial health care issues was inevitable and it was indicative of a healthy organisation that staff had the facility to voice it.
The trust said if vascular surgery did move to Chester, 150 patients a year would have a longer journey to hospital, but would have better outcomes after treatment.
The trust also said that it followed national NHS guidelines in respect of disciplinary matters.