Trussell Trust Foodbanks sees rise in Liverpool demand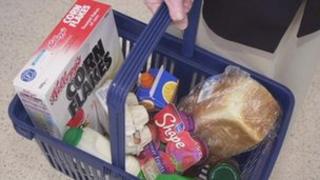 Increasing numbers of low income working people on Merseyside are turning to charity for help feeding their families.
Trussell Trust Foodbanks has seen a 50% rise in people needing help.
Many of those asking for help have been made suddenly redundant.
John Sumner, who works at the charity's Garston distribution point, said: "In the last six months we've seen a dramatic increase in the number of people coming to collect food from us."
He added: "Initially, it was mostly people who were having difficulty with benefits but increasingly now we're seeing people who may be finding themselves unemployed, people who have no idea how to access benefits, it's a sudden emergency for them."
'Impossible choices'
The foodbanks issue food vouchers. In exchange for the vouchers people receive three days of nutritionally balanced, non-perishable food.
The charity's local centres also offer support and help people find other services that may be able to assist them.
"There are people who are embarrassed by coming," Mr Sumner said.
"Thankfully we're able to persuade them that it's a situation that you or I could find ourselves in, we're all only one pay cheque away from being in this sort of emergency.
"Being able to help people in that situation brings it home to you how much in need we all can be very quickly."
Across the UK the charity has been opening a new foodbank every week.
Chris Moul, executive chairman of The Trussell Trust, said: "Since 2008 we've seen numbers fed by foodbanks increase by 136%.
"Recession followed by high unemployment and rising food and fuel prices has had a huge impact.
"Foodbank clients are faced with impossible choices between paying the rent and buying food."
In Garston, Mr Sumner said he was struck by the generosity of the local community.
"It's quite humbling to see how people who don't have much money themselves are prepared to give us a bag of food quite regularly," he said.
"We ask the public to donate food either through supermarket collections or through church and school harvest festivals, and we have a collection point at our distribution centre."
"They know that it's going to help people like themselves in the local area.
"It's just wonderful to be able to help people who are in real need.
"They're coming in with a need for food but also a need for other help and a need for somebody to understand the situation they're in."