Arrowe Park vascular surgery switch will 'hit patients'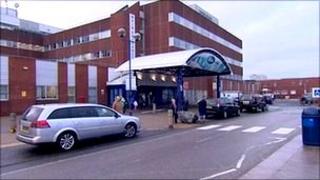 Plans to move surgery from a Wirral hospital will affect some of the area's sickest patients, senior doctors from the hospital have claimed.
The claim comes in a letter, shown to the BBC, from consultants to the trust which runs Arrowe Park Hospital.
Removing vascular surgery from the hospital will turn it into a "second rate" centre, said the consultants.
But Wirral University Teaching Hospital Trust said doctors accept the need for fewer and better vascular centres.
The consultants are objecting to a plan to transfer vascular surgery from the hospital to the Countess of Chester Hospital in Chester.
It is part of a wider review of vascular services in Cheshire and Merseyside which aims to concentrate expertise in fewer centres, to begin in November.
The trust said the Chester move would only affect 150 patients annually who are treated at Arrowe Park.
'Sickest patients'
The consultants' letter stated: "The vascular surgeons performed 326 major vascular operations (last year)... we challenge the notion that the impact of the proposed move would be relatively minor.
"These are amongst the sickest patients in the trust."
The consultants said that patients who need vascular surgery often need renal or kidney treatment as well, which is provided at Arrowe Park.
But the letter added no renal services were being planned in the move to Chester.
The trust said doctors accepted the need for fewer and better vascular centres and it added that discussions were ongoing with regards how best to achieve this without reducing the quality of care.
Doctors are also balloting staff to gauge the depth of feeling about the switching of services.