Mobile hair service offers privacy for Muslim women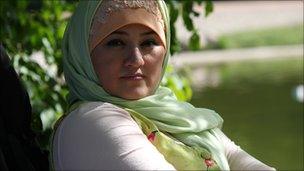 A Merseyside woman has set up a mobile salon to allow Muslim women to have their hair styled in private.
Zainab Nezami, from Liverpool, said as Islamic women are required to wear the hijab in public this can cause problems for them visiting hairdressers.
"In the Muslim tradition you keep your hair covered as part of your modesty," she explained.
"That creates difficulty for Muslim women going to hairdressers in Britain because salons are male and female."
Ms Nezami recently qualified as a professional hairdresser and hopes one day to open a salon designed specifically for Muslim women.
"It is not unusual as a Muslim woman to take the initiative in the business world," she continued.
"At the moment I can't open my own salon because I would need a bank loan and my religion doesn't allow me to pay interest.
"I started my business as a mobile hairdresser because in Islamic society here lots of women don't have access to salons.
"We have to cover ourselves from head to toe and wear clothes that don't show our body and we can't go to the salon if there is a man there."
Ms Nezami currently visits Muslim women in their own homes to style their hair.
"There is a lot of women's hairdressers but the windows are very large so they are still visible from the outside, so there are lots of things that stop Muslim women going to the salon," she said.
"Under the scarf in the house they can make anything, like a funky cut or any style and colour.
"In Islam we don't allow to cut the woman's hair like a man because there has to be some difference between a man and a woman, so we opt for shoulder length.
"Some of my friends wanted to do their hair pink and blue and I've done it and it looks very nice."