Doormen shot at Liverpool pub failed by police - IPCC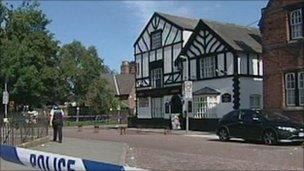 Police failed to respond to reports of threats made at a Liverpool pub an hour before two doormen were shot, an IPCC investigation has found.
The men were shot in the legs while working at the West Derby Hotel on 15 August 2010.
Staff reported being threatened by men on four other occasions in the nine days leading up to the shooting.
An investigation has found police did not handle the calls properly, missing opportunities to prevent the attack.
Staff reported several incidents of threatening behaviour starting on 6 August, including two days before the attack when men who were refused entry threatened to return and shoot them.
The Independent Police Complaints Commission (IPCC) found these reports were not handled correctly, with the Intelligence Office and key management figures not being made aware of the increasing threat.
The most serious mishandling of information took place on the night of the shooting, the IPCC found.
The pub manager called police at 2100 BST over a new threat to "cause trouble" in the pub, and recounted details of the previous shooting threat.
As this was interpreted as a new shooting threat, the force incident manager gave instructions to the control room at 2121 BST for officers to investigate.
The manager also ordered a police patrol be sent to the pub to deter any violence.
These instructions were not carried out and, at at 2214 BST, police received a call stating that the two doormen had been shot.
The supervisor who failed to implement the manager's instructions blamed a busy workload.
Naseem Malik, IPCC Commissioner, said: "These instructions were designed to put tactics in place that may have disrupted the criminals' plans and may have stopped the shooting taking place.
"These emergency calls clearly indicated an increasing threat towards the door staff at the West Derby public house.
"I appreciate that threats from drunken patrons who may be disgruntled with door staff may be a regular occurrence and that the police, at an immediate operational response level, have a difficult task in assessing and responding appropriately to such threats.
"However, in this case, it is evident that there was a pattern of sinister and threatening behaviour developing."
The IPCC has recommended Merseyside Police conduct a full review of its Threat to Life Policy.
Related Internet Links
The BBC is not responsible for the content of external sites.