Liverpool Coastguard station in Crosby set to close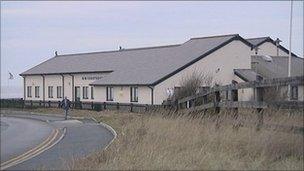 Liverpool Coastguard station is set to close as part of a government reorganisation of the service.
The station in Crosby is one of eight Maritime and Coastguard Agency (MCA) centres to shut.
Transport Secretary Philip Hammond told the House of Commons 11 UK centres would remain and they would all operate 24 hours a day.
The station at Holyhead in North Wales was chosen to stay open rather than Liverpool.
Mr Hammond said that was amid concerns raised about Welsh language communication.
He said: "We're retaining the station at Holyhead which is the paired station with Crosby, which is routinely operating in tandem with Crosby using the same areas of local knowledge around the North Wales coast and the Liverpool bay area which both stations cover."
Liverpool Coastguard covers waters from the Point of Ayr on the Dee Estuary through Merseyside, Morecambe and South Cumbria, all the way up to the Mull of Galloway.
It also covers some of the Irish Sea, up to the halfway point between the Isle of Man and Ireland.
It is thought 20 jobs will go at the Crosby centre as a result of its closure.
Sir Alan Massey, MCA chief executive, said most staff support the changes to the service.
"If you take the whole of the coastguard organisation we will be reducing by about 150 posts.
"But still yes, I accept that nobody likes to make people redundant or to take jobs away."
He added: "What we're hoping to do is to offer as many people who want to come with us into the future opportunities to go to different places. And if they can't or don't want to do that then we'll do our best to find them other placements in the civil service."
But Crosby Coastguard watch officer and Liverpool branch chairman of the Public and Commercial Services Union (PCS), Brian George, said the union would fight the closure.
"This announcement has created a lot of anger within operations room staff, because Liverpool has been targeted for closure in the past and here we are again," he said.
"There is a 12-week consultation period in which we will fight the decision to close Liverpool Coastguard station.
"A lot of people rely on the sea and the coastline for their livelihood and they shouldn't be forced to accept a reduced coastguard service."
Speaking in the Commons, Labour MP for Sefton Central, Bill Esterson, said the decision could put safety at risk.
"The news Crosby coastguard is to close is a bitter blow to staff and to the public in my constituency and much further afield, as other honourable members have already said in relation to their own coastguard stations.
"Many will view it as a cut too far which risks public safety.
"Crosby has many experienced and outstanding staff who have key relationships with search and rescue staff, with police officers and with firefighters."
The transport secretary announced the Southampton and Portsmouth coastline will be the base for the Maritime Operations Centre for the UK.
There will also be a disaster recovery back-up facility at Dover, which will also service vessels in the Channel.
Eight coastguard stations at Falmouth, Holyhead, Milford Haven, Belfast, Aberdeen, Humber, Stornaway and Shetland will remain open, and a smaller station in London will also be retained.
Other stations to close are in Clyde, Forth, Portland, Yarmouth, Brixham, Thames and Swansea.
The stations listed for closure would shut down by 2015.
Related Internet Links
The BBC is not responsible for the content of external sites.