Huyton flood: United Utilities in water mains overhaul proposal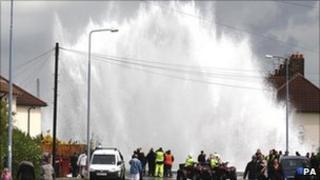 United Utilities has proposed a multimillion-pound overhaul of water mains on Liverpool Road in Huyton after one burst, causing flooding.
More than 200 houses and businesses were affected on Monday as a 40ft (12m) plume of water was sent into the air.
The firm has called on Knowsley Borough Council to back proposals to overhaul Victorian pipes along the road.
It said work could begin as early as January 2012 but warned it would cause "long-running traffic disruption".
The scheme would see United Utilities refurbish long lengths of water pipes which run parallel along Liverpool Road (A57) and adjoining streets.
Steve Fraser, managing director, said: "The events earlier this week in Huyton were devastating.
"For families who have previously suffered the heartbreak of flooding to be dealt another blow is simply unacceptable.
"We feel we have let this neighbourhood down very badly."
Goodwill payments
He added: "We must now continue to offer families every possible support in the immediate aftermath of the burst, but also look at how we can guarantee long-term peace of mind for residents.
"For that reason, we are proposing a radical overhaul of the Victorian water mains which run along Liverpool Road and surrounding streets.
"It's vital that the local community and the council are given ample opportunity to debate this proposal, as it will inevitably result in long-running traffic disruption to a major arterial route into the city centre."
United Utilities said it had made 140 goodwill payments to residents in the aftermath of the floods, to allow them to pay for essentials.
It said the first compensation payments would be paid in the next few days, with families who suffered internal flooding in their houses receiving priority.
United Utilities carried out a previous £7m water main refurbishment in the area in 2009.
Knowsley MP George Howarth said the company was "unfit" to oversee North West water supplies.