Ex-Liverpool striker John Aldridge: NoW hacked my phone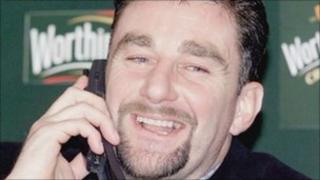 Former footballer John Aldridge has said police have told him a News of the World investigator hacked his phone.
Mr Aldridge, who played for Liverpool in the late 1980s, said he was "shocked" when police contacted him.
He said he was told that his details had been found among the files of private investigator Glenn Mulcaire.
Mr Aldridge, 52, said: "They tell me I was hacked five or six years ago. I have no idea why they should go after me. I'm not exactly high profile."
He added: "Maybe they thought they could get something from me because I know people in the game, but I just don't know.
"I was a bit shocked to tell you the truth. You don't like to think of anything like that happening to you."
He said he had referred the issue to his solicitors.
The Metropolitan Police said it could not comment on individual cases.
News International said the same, and added it was "co-operating fully with all relevant investigations".
Mr Aldridge, from Liverpool, scored 50 goals for the Anfield club during his 83 appearances there between 1987 and 89.
He also represented the Republic of Ireland and played for Oxford United, Real Sociedad and Tranmere Rovers in a 20-year career.