Everton and Liverpool stars in call for calm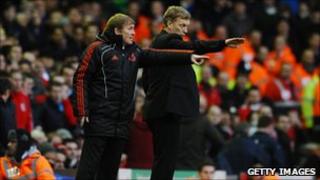 Football stars from Liverpool and Everton have issued a joint appeal for calm following rioting on Merseyside.
Managers Kenny Dalglish and David Moyes, and players from both clubs, condemned "the shocking display of behaviour" seen in the city.
The Everton manager described the riots as "mindless", while the Liverpool boss urged people to "pull together".
Police arrested 50 people in trouble which spread across Wavertree, Birkenhead and Bootle on Tuesday.
Mr Moyes said: "There can be no justification for the shocking display of behaviour that has been witnessed throughout the city of Liverpool and the rest of the country over the past few days."
Mr Dalglish said: "The city has made incredible progress over the past few years and no-one wants to see our restored reputation damaged by what we have witnessed over the last couple of days."
'Very dark light'
Players from both teams also came together to condemn the actions of those involved in the rioting.
Liverpool captain Steven Gerrard said: "This is a city which has always stuck together in difficult times and supported each other.
"If there are people thinking of going out and causing problems, then please think again."
Everton's Leighton Baines said: "As a proud Scouser it has been incredibly sad to see repeats of the London riots in areas of Liverpool.
"These acts of mindless violence and vandalism paint our great city in a very dark light and certainly doesn't reflect what an amazing place Liverpool is."
City Council Leader Joe Anderson, said: "I hope that the minority of young people in the city, who have been involved in disorder, listen to what their heroes are saying and calm can be restored as soon as possible."