Signed Beatles single Please Please Me fetches £9,000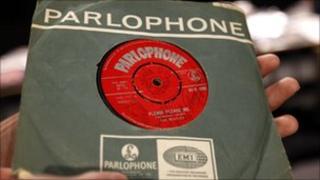 A copy of the Beatles hit single Please Please Me signed on both sides by all four members of the band has fetched £9,000 at auction in Liverpool.
The 1963 record was sold by a Liverpool woman who asked the group to sign it after listening to them at the city's Cavern venue as a youngster.
The "very, very rare" item was among 322 lots at the annual Beatles memorabilia auction.
Among other highlights was a cap owned by John Lennon which sold for £3,200.
There were bids made from around the world - with particular interest from Austria, Germany, Australia and the US - for the lots at the auction, part of the annual Beatles Convention.
Other items at the sale, held in the Paul McCartney Auditorium at the Liverpool Institute for Performing Arts, included the door of number 38, Kensington, which went for £2,300.
'Massive attraction'
The burgundy door was at the entrance to a studio in the Kensington area of the city where the band, then known as The Quarrymen, did their first professional recording session.
It will stay in the city and go on display at the Museum of Liverpool Life.
Stephen Bailey, manager of the Liverpool Beatles Shop, which staged the sale, described the moment the rare single was brought in to the store.
"It was just a local lady with a signed record asking: 'Is this worth anything?'
"I said: 'Yes, that's worth several thousands of pounds.' And here we are, £9,000 later.
"People often wander into the shop asking: 'Is this worth anything?'
"There is still massive attraction for Beatles memorabilia. There are still people willing to pay fantastic prices."