Maida Vale session for Wirral band The Loud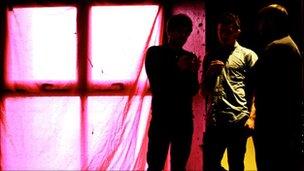 Wirral garage band The Loud will release a debut mini album in September which will be launched with a live session for BBC 6 Music.
Lee Pennington, Leroy Oxton and Matthew Freeman have put together a six-track LP called Harris Shutter which follows a 2010 EP.
They will play four of the songs live from the BBC Maida Vale studios on the day of the LP's release on 5 September.
The new material was introduced at a warehouse party in Jordan Street, Liverpool, with support from local acts Lucky Beaches, Carousel and By the Sea.
The band told BBC Radio Merseyside that the LP has a more distinctive sound than previous releases.
"With the first one [EP], we wanted to sound like loads of other people and didn't really sound like us," singer and guitarist Lee Pennington said.
"Now we have become comfortable with what we're playing, and we've got a better, more individual sound."
Drummer Leroy Oxton said: "Our influences have changed considerably too.
"Now we listen to bands like The Stooges and T-Rex for that glam influence, and a band from Chicago that we're really into called The Smith Westerns."
The songs on Harris Shutter and the name of the LP reflect the groups' diverse taste in music.
Bassist Matthew Freeman said: "Harris Shutter is a photography technique where you use filters to let certain light through. The three filters are used to create one colour.
"We thought that it was kind of representative of us bringing each of our different influences together to make one song.
"We're trying to sound like The Stooges, playing T-Rex.
Harris Shutter will be released through independent Liverpool label Payper Tiger Records, ahead of a tour planned for autumn.
Locally they will support White Denim in the 02 Academy on 31 August and play at the Liverpool Sound City launch show on 13 September 2011.
Related Internet Links
The BBC is not responsible for the content of external sites.