Blast soldier Thomas Sephton 'died to save friends'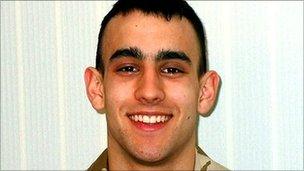 A soldier who died after a roadside bomb blast in Afghanistan gave his life to save his friends, an inquest heard.
Pte Thomas Sephton, 20, of 1st Battalion The Mercian Regiment, was injured in the Nahr-e Saraj district of Helmand Province on 4 July 2010.
The 20-year-old, from Warrington, Cheshire, was taken to hospital in England but died the next day.
Coroner Nicholas Rheinberg, recording a verdict of unlawful killing, said the soldier had been "murdered".
Pte Sephton died of multiple organ failure at Birmingham's Queen Elizabeth Hospital caused by blast injuries, Mr Rheinberg said.
An engineer and body armour expert had examined Pte Sephton's helmet and armour and found, although some of it was due to be replaced, it could not have saved his life.
The inquest, at Warrington Crown Court, heard that on the day he was wounded, the soldier had gone out to clear a route of improvised explosive devices (IEDs) around a patrol base on a highway known as "IED Road".
He was next to his best friend Pte Charlie Emina, who was providing cover while he used a metal detector to check for traps, when he noticed a wire as they crossed an irrigation ditch.
Pte Emina said that his colleague had shouted that he had found a wire and "the bush just exploded".
The inquest heard that Taliban fighters use the wires to trigger the IEDs.
In a statement, Pte Emina described Pte Sephton as being like a brother to him.
"He loved his friends and family more than anything," he said.
"He was always first out of the gate on patrol and had pride doing his job for his country.
"He saved the lives of his section on two occasions and on that tragic day he saved my life and gave his own.
"He is a true hero to his friends, family and his country and as a nation we owe him a debt of gratitude. I love him with all my heart and I will be lost without him."
In a statement read to the inquest, Lt Col Andrew Hadfield, Commanding Officer 1 Mercian, said Pte Sephton was "courageous and selfless to the last".
He had a "big heart, and was full of fun and energy" who "punched above his weight in every way, whether militarily in in sporting activities or by just being a great friend and comrade".
"If any man lived the motto, 'Stand Firm Strike Hard', it was Tom Sephton," he said.
Lt Col Steven Cartridge said the Taliban "adapted and changed their tactics" in a bid to "defeat" the soldiers.
The final statement read to the court by Mr Rheinberg was from Lt David Payne, who described Pte Sephton as one of the bravest soldiers he had met.
"Sleep well now, I will never forget you," he said.
Related Internet Links
The BBC is not responsible for the content of external sites.