Strong winds affecting Merseyside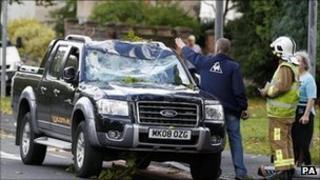 Strong winds are affecting parts of Merseyside as the remnants of Hurricane Katia pass over the UK.
A tree fell over on Queens Drive in Allerton, Liverpool, on Monday morning, leaving a car badly damaged and the road blocked for several hours.
A kite surfer was also rescued from the sea in Wirral after getting into difficulty off New Brighton.
Ferry crossings have been cancelled between the Isle of Man, Liverpool and Heysham, due to weather conditions.
A Steam Packet spokesman said passengers affected by the cancellations will be helped to find alternative travel arrangements, subject to availability.
The Met Office issued warnings across the north to expect winds of up to 70mph and heavy rain.
Offshore winds
The Environment Agency has also issued several flood alerts for inland and coastal areas.
Liverpool Coastguard said it was contacted by Wirral Lifeguards who had been watching a kite surfer who had returned to sea to retrieve his lost kite in strong winds and a choppy waters.
Lifeguards used a water bike to look for the kite surfer but later called for a helicopter from RAF Valley to help in the search.
He was spotted about a mile off shore and rescued.
Liverpool Coastguard Watch Manager Paul Parkes said: "The kite surfer was lucky to be found because it is hard to spot a head in a black wet suit in choppy water like today.
"The combination of strong offshore winds and an outgoing tide created difficult conditions for making back to shore."