Huyton flood residents reject United Utilities compensation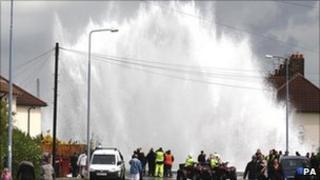 Some residents whose homes were damaged in a water mains burst have accused United Utilities of inadequately compensating them.
More than 60 homes and businesses were flooded when a pipe burst in Lincombe Road in Huyton, Merseyside, in July.
United Utilities, which has offered £3,000 in inconvenience compensation to each household, said 60% of residents had accepted compensation.
But some residents in larger households have demanded a higher payment.
They have refused to accept the firm's offer of an additional £2,000 on top of the £1,000 they have already been paid, saying that they want more and may take legal advice.
The call came at a meeting between residents and United Utilities representatives, who have set up a drop-in centre for people in the neighbourhood to discuss their claims.
The firm said the compensation for inconvenience was in addition to paying laundry, hotel and taxi bills and paying for the homes and contents to be repaired and redecorated.
Most residents were forced to move out of their homes and live in hotels while repairs were carried out.
'Stress is terrible'
Rob Gray, 41, of Lincombe Road, an environmental health technician who lives with his wife and four-year-old daughter, said: "We're undecided about whether to accept the offer.
"It doesn't seem very fair on people who have five or six people living in a house to get the same amount of money as someone who lives on their own because it's all got to be divided up.
"We've had nine weeks of this where we've been living in the upstairs of our house and we've got decorators and different people coming and going all the time.
"We've put claims in for damage and we never know when that money's going to come. The stress is just terrible."
'Generous offer'
A spokeswoman from United Utilities said: "Following the flooding, our goal has been to deal with families' claims quickly and generously.
"We believe this inconvenience compensation is a generous offer, and one which has already been accepted by more than a third of families affected.
"A wider group of families who suffered external flooding, but were not displaced from their homes - numbering more than 80 households - have also received some level of inconvenience payment."
The firm said those who chose not to accept the additional £2,000 could take legal advice.
The majority of families are expected to have returned to their homes by the end of September.
Multi-million pound repairs are being carried out on the Victorian water pipes, which have caused partial road closures, including Liverpool Road and Huyton House Lane.
The first phase is expected to last until Christmas with a second phase starting in January, which is expected to continue for the rest of 2012.