Liverpool black music film to remember The Timepiece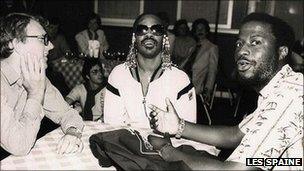 Legendary Liverpool nightclub the Timepiece is the focus of a new documentary about the black music scene in the city in the 1970s.
The film tells the story of the nightclub in Fleet Street which, at the time, was the only club in the city playing black music.
Soul, reggae and funk music was introduced to Liverpool's youth by local DJ Les Spaine.
Back To The Timepiece is screened at the Museum of Liverpool on Saturday.
Les Spaine, who now runs a music management company in London, said the influence of black American music impacted on British culture.
He said: "Between the seamen bringing it in and the Yanks coming down it really changed the perspective of a lot of English music. The Timepiece broke some big stuff."
The club was also popular with American GIs based in Warrington who travelled over to the club.
"We had that wonderful injection of the American Yanks," he said.
"We didn't have all these motorways then and people were coming from American bases all over for the all-nighters.
"People who came from Scotland, from London, even Europe. They became really big."
He said he hoped the film would help people to recognise the influence the Timepiece had on English record companies.
"When you have something in your own back yard you don't always realise," he continued.
"Everybody knew everybody, so there was this kind of extended family vibe - that was the nucleus of the Timepiece, but I didn't realise how big the Timepiece was until I left.
"People in London and people abroad - they still bring it up to me. People need to look back on Liverpool's affect on music."
The documentary will be screened on Saturday at The Museum of Liverpool. For more information on the screening and to book a place contact info@pidgin.org.uk or call 0151 708 5708.
Related Internet Links
The BBC is not responsible for the content of external sites.