Georgia Varley dies in Liverpool railway station fall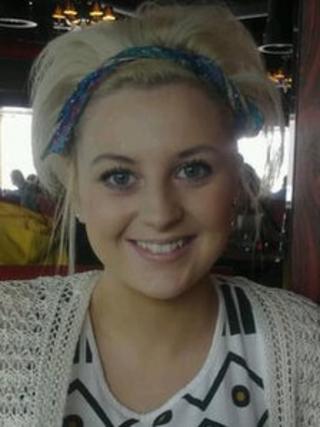 A girl has died after falling between a carriage and the platform at a Liverpool railway station, apparently while running after a train.
Georgia Varley, 16, of Wallasey, Wirral, died at Liverpool James Street station late on Saturday night, British Transport Police (BTP) said.
Police believe she had been running to catch a train home that had friends and family on board.
Some bystanders needed treatment for shock after witnessing her death.
About 40 passengers were on the platform at the time of the incident, which involved the 23:01 BST Merseyrail service to West Kirby.
It is thought Georgia had been on a night out.
BTP said Ms Varley fell between a train and the platform and was killed as the train left the station.
'Distraught family'
Det Ch Insp Simon Taylor, leading the investigation for BTP, said: "We are determined to work out exactly what happened to Georgia and I am calling on rail passengers in Liverpool to help with this.
"Georgia has left behind a distraught family and we want to be able to tell them exactly what happened and help them come to terms with the tragedy."
Anyone who witnessed the incident is being urged to contact them.
A spokeswoman for the Northwest Ambulance Service said Georgia was confirmed dead at the scene.
"When our paramedics arrived they realised that there was nothing that could be done for the girl," she said.
"They were able to treat some people nearby who witnessed the incident."
A spokesman for Merseyrail said the company was co-operating fully with a BTP investigation into what happened.
"Our thoughts are with the family and friends of the victim and we extend our sincerest sympathies to them."