Liverpool cruise liner terminal plans threatened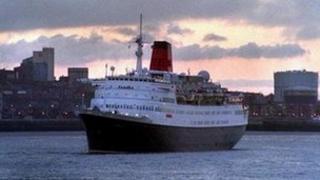 Liverpool City Council could be forced to pay back European grant money if the city's cruise liner terminal changes to become a turnaround facility, a letter seen by the BBC says.
The council wants permission for cruises to start and end in the city.
The publicly funded terminal is restricted to cruise stop-offs only.
The letter from the European Commission to an MEP says that any change of use would mean "a financial correction could not be ruled out".
Liverpool's cruise liner terminal opened in 2007 with £9m of government funding and £8.6m from Europe.
In return for the lifting of restrictions, Liverpool council has said it would pay back £5m of UK government funding it received.
The letter sent by the EC to Southampton UK Independence Party MEP Marta Andreasen suggests that Liverpool would also be liable for "a substantial modification" in relation to European Regional Development Fund money it received.
The letter states "the commission will ensure that the state aid rules are fully respected" and that this is "equally applicable to the national and EU funding".
Other UK ports that currently run cruises have objected to Liverpool's plans, claiming that they would suffer as a result.
The Port of Tyne, Harwich and Southampton argue that they received no public money to develop their facilities.
Associated British Ports (ABP), which owns Southampton Docks, has said that if the plans were approved, it would be a misuse of state funds.
Joe Anderson, leader of Labour-controlled Liverpool City Council, said: "We've agreed with central government on the state aid issue, and that we would be glad to pay some of the money back.
"It would be hugely damaging if Southampton and others demand that we pay European money back.
"This would be a restraint of trade issue and we believe the European money was given to us to increase the economic benefits to the city of Liverpool and the city region.
"It's my job to stand up for the city and bring investment into the city."
A decision following the Department of Transport consultation on Liverpool's plans is expected by the end of the year.