Wirral homes gas supply restoration continues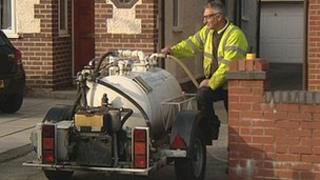 About 1,000 homes in Wirral still need their gas supplies restoring after pipes were flooded by a burst water main on Friday.
National Grid said that by the end of Monday 755 homes had power restored.
The gas was cut off when a main at the junction of Danger Lane and Hoylake Road burst filling adjacent pipes with water.
Some homes also suffered an electrical blackout on Sunday, after a surge in demand overwhelmed the local network.