Carole Wright 'slimmer of year' after losing 20 stone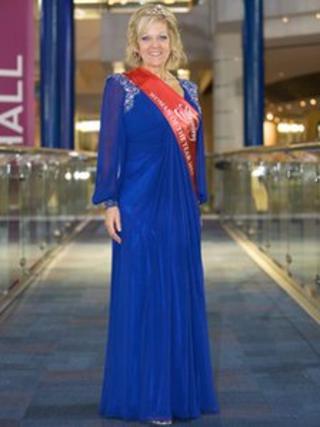 A woman who lost almost 20 stone after being told by her doctor she could be dead in two years has been named Slimming World's woman of the year.
Carole Wright, 54, from Southport, Merseyside, weighed 30st (190kg) and was virtually housebound.
She was unable to perform simple tasks such as putting on her shoes or loading the washing machine.
In two years, Ms Wright has lost 19st 10lb (125kg) and 27in (68.5cm) from her waist.
She said: "My life is completely different from two years ago.
"I can do all of the little things everyone else takes for granted, like putting my own shoes on, painting my toe nails and walking up stairs - in fact, I run up them now."
The award-winning slimmer, who was known as Big Carole, had suffered from weight-related ailments, bullying and criticism about her size.
She said: "I was called names as a child and as an adult. Strangers in the street would make rude comments and the kids nextdoor would shout abuse when I was hanging out the washing.
"I tried to lose weight on my own but within days I'd be back to eating unhealthily."
Soon after her 50th birthday in 2007, Ms Wright's weight started to get out of control and she was forced to quit work due to a knee injury.
"I couldn't do anything for myself anymore," she added.
"I couldn't stand to peel potatoes or go upstairs without crawling on all fours.
"I relied on my asthma inhaler constantly and my son Jonathan, who's now 15, had to help around the house.
"All I ever did was watch television or sit on the computer.
"It got to the stage where I wasn't only trapped inside the house, I was trapped in my own body too and I couldn't see a way out."
During a nine-month period in 2009, she left her house just four times and was told by her GP that she could die if she did not lose weight.
Ms Wright joined the slimming club in September 2009 and is now a dress size 10.
She said: "For the first time in my life I feel normal and it's a great feeling."