Brookside actor Brian Regan 'took cocaine' as man was shot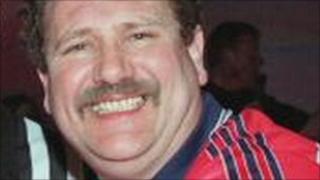 Ex Brookside star Brian Regan has said he was snorting cocaine as a man was shot dead in Liverpool.
The former actor, who denies murder, told Liverpool Crown Court how he had turned to using and dealing the drug after leaving the soap.
But he said he did not know the man he had driven to a pub had murdered club doorman Bahman Faraji, 44, who was shot in the face in February.
Mr Regan said he thought the man was collecting money he was owed.
The 54-year-old, who played Terry Sullivan in the Channel 4 soap, said he had driven Edward Heffey, 40, to the Belgrave pub in Aigburth, Liverpool.
Mr Regan said he had been having "a line of cocaine" as the father-of-one was gunned down in the street.
He said he was a regular cocaine user and dealer after beginning to take the drug in the 1990s and added: "Eventually the drug got hold of me and I was constantly taking cocaine."
'Nothing different'
The court heard that Mr Regan, who saw his acting career peter out after leaving Brookside in 1997, would supply Mr Heffey with cocaine "about three or four times a day".
He said it "wasn't unusual" for Mr Heffey to also ask for a lift in Mr Regan's car.
Mr Regan told the court: "[Heffey] asked for a lift to go and get money that was owed him so he could pay for the drugs."
He said when Mr Heffey returned to the car after the shooting took place, there had been "nothing different about him".
Mr Regan, of St Marys Road, Garston, Liverpool, told the court there had been no sign of blood and no sign of a gun.
He said he then "drove away normally" from the scene and took Mr Heffey home.
Mr Heffey, 40, of Beloe Street, Liverpool also denies murder alongside Lee Dodson, 42, of Logfield Drive, and Simon Smart, 32, of Kylemore Way, both of Liverpool.
The trial continues.